EnviroLawn is one of the best and leading environmental lawn services that provide homeowners or residential business with high quality and dependable lawn care service. Tom (the client) has an existing website that he wants ASWG Designs to update, redesign and maintain along with his social media account.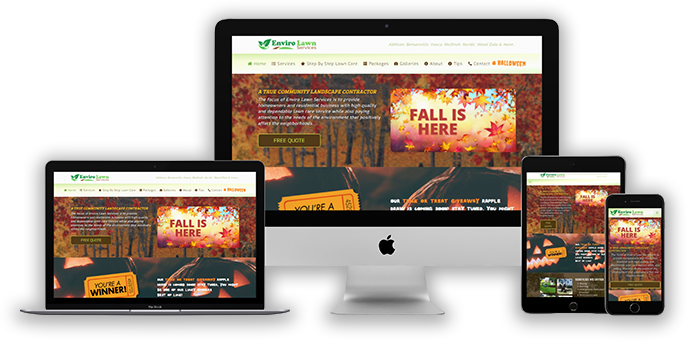 The main challenge is updating the version of coding of the website to make special features and other user interface functional as it was using the older version of coding.
ASWG Designs successfully updated everything in the website from back end to front end. Any changes we will do in the future will be functional and won't have any errors or bugs.
ASWG Design retained the color scheme, so for the background we use green or brown. For the text we use brown for paragraph and green for titles or to highlight texts. The call-to-action button is brown.
"Bree Serif and Exo" were used as the typography of Enviro Lawn Services, this is a perfect combination as the font looks simple but also looks good on the website. "Bree Serif" was used for headlines while "Exo" was used for the text description.
ABCDEFGHIJKLMN
OPQRSTUVWXYZ
ABCDEFGHIJKLM
NOPQRSTUVWXYZ
abcdefghijklm
opqrstuvwxyz
In every updates that ASWG Designs did to the EnviroLawn website, Tom is always satisfied with the work we provided and it always meet his expectation. ASWG Design always try our best to complete the updates before the deadline. Some of the updates or maintaining we are doing are, creating banners for the website like update it every holidays or weather season (fall, winter, spring, summer). It is always a pleasure working with Tom and really appreciate him trusting ASWG Designs to maintain EnviroLawn website. ASWG Designs is really grateful to be part of the growing business of EnviroLawn.