An e-commerce site that offers slides for various types of rowing machines used to enhance the rowing experience. Mario (the owner) had an existing website, and his main objective was to redo his site so that the site since the existing site empirically didn't have a good look / feel / experience.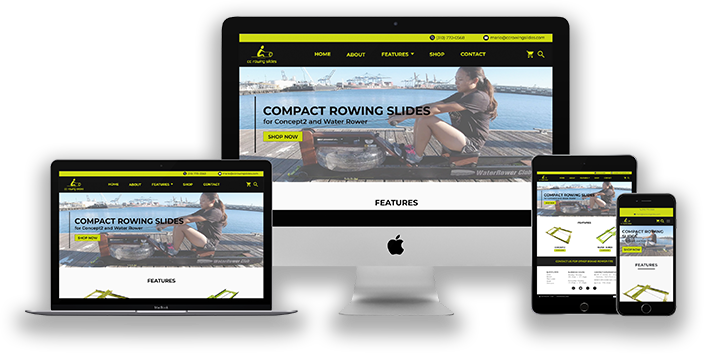 The challenge was to completely recreate the website from scratch to resulting in an engaging experience for site-visitors causing them to efficiently navigate the site to learn more about the product and ultimately purchase the Rowing Slide product resulting in improved conversions.
ASWG Designs recreated the entire website and because it's an e-commerce website and ASWG Designs paid additional detail to the User Experience (UX) of the site. While working on this product ASWG Designs observed that client didn't have any existing social media presence so ASWG Designs proposed to the client to create an effective social media presence and the client was excited to learn that ASWG Designs offered this service, so they engaged ASWG Designs to create site / pages on (Facebook, Instagram, YouTube & Google Business) in-order to gain additional site exposure and further market CCRowing Slides products.
The client's previous website color combinations were black / white with a neon green logo. So ASWG Designs come up with new color palette making more use of neon green for the logo color against the black header background to make the logo standout / "Pop". Additionally, the font / call-to-action buttons used was also neon green against the black header background.
"Montserrat and Courier New" were used as the typography of CCRowing Slides, this is a perfect combination as the font looks simple but also looks good on the website. "Montserrat" was used for headlines while "Courier New" was used for the text description.
ABCDEFGHIJKLMN OPQRSTUVWXYZ
ABCDEFGHIJKLMN OPQRSTUVWXYZ
abcdefghijklm opqrstuvwxyz
Mario was extremely delighted with the outcome of the CCRowing Slides website. Not only did ASWG Designs fix the issues that they've been encountering with their previous website but now the CCRowing Slides website now has more professional look / feel while incorporating an effective e-commerce capability / experience. The social media presence that ASWG Designs proposed / delivered for CCRowing Slides has significantly increased the marketing of their products. Also, CCRowing Slides is now able to showcase their products to his clients locally through the Google Business pages. Working with CCRowing Slides and Mario was great, the communication was so easy, and everything was accomplished in a timely manner.