A company that offers services related to the maintenance of home / business gardens. Celeste (the owner) wanted a green themed website and logo identity that would reflect her services offered by her company.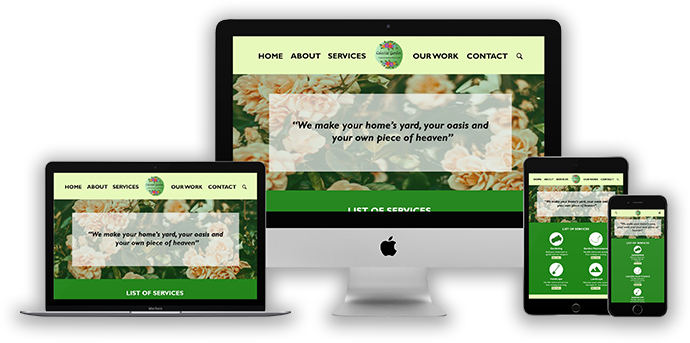 The client wanted a logo that that included the wordmark and flowers to be combined. She wanted the logo to be simple, look good for her website and capture the essence of her company.
ASWG Designs, made a circular logo where around it would be flowers in the middle and wanted the wordmark style where the name of the business is written.
The client wanted the color palette of green as this incorporated the primary color of most gardens so, ASWG Designs, used the green family of colors and combined it with the color of black.
The family of "Gill Sans MT" was used for the website. "Gill Sans MT" bold was used for headlines while "Gill Sans MT" regular was used for the text description.
ABCDEFGHIJKLMN OPQRSTUVWXYZ
abcdefghijklm opqrstuvwxyz
The client was so happy with the logo and web design and communicated that overall, her reaction to her site was amazement. The website was designed specifically using the client requirements and the feedback from the client was that the result was better that what she had been envisioning,