An x-ray maintenance / repair service company that services cabinet x-ray systems. Joe (the owner) wanted to have a fresh crisp modern website that would advertise the company and the services it provides. When it comes to the logo, the client shared an idea to ASWG Designs regarding their logo and ASWG Designs made it a reality. Additionally, the client engaged ASWG Designs to create their business cards and their letterhead.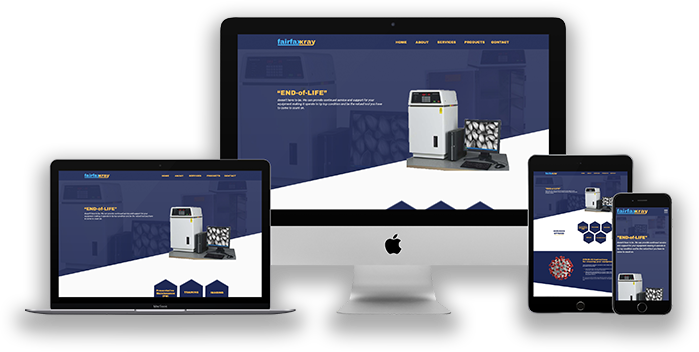 The challenge here was to establish a website that would really convey to the site-visitor what the business offered and details regarding their business.
ASWG Designs created different logotype ideas and proposed it to the client. Different sets of Wordmark for the logo were created just like the ideal logo the client wanted but still had the uniqueness and freshness to it without infringing on any trademarks. Business card and letterhead was also created and proposed to the client.
The client didn't have a specific palette that they wanted but they knew they wanted the logo to incorporate the blue color so ASWG Designs had chosen the color combination of blue and yellow. Blue is used more for the background of the website and yellow is used for call-to-action buttons.
The font of "Archivo Black" was used for both the logo and the website. Bold was used for the headlines while "Roboto" regular was used for text descriptions.
A B C D E F G H I J K L M N O P Q R S T U V W X Y Z
A B C D E F G H I J K L M N O P Q R S T U V W X Y Z
a b c d e f g h i j k l m o p q r s t u v w x y z
Joe loved and the website design so much that during the development phase zero modifications were made to the design which allowed development to proceed uninterrupted. Joe was extremely pleased with the outcome of his website and ASWG Designs was able to accomplish the project before the deadline. Joe finds it much easier now to market his business and is extremely excited for his future prospects. Working with Joe was easy as he responded promptly and was able to quickly respond to requests for information to fully understand his requirements.